Access On-Demand Bootcamp Recordings with an Annual Plan
With our annual plan, access the below recordings, all relevant labs and 2400+ labs spanning another 130+ subtopics!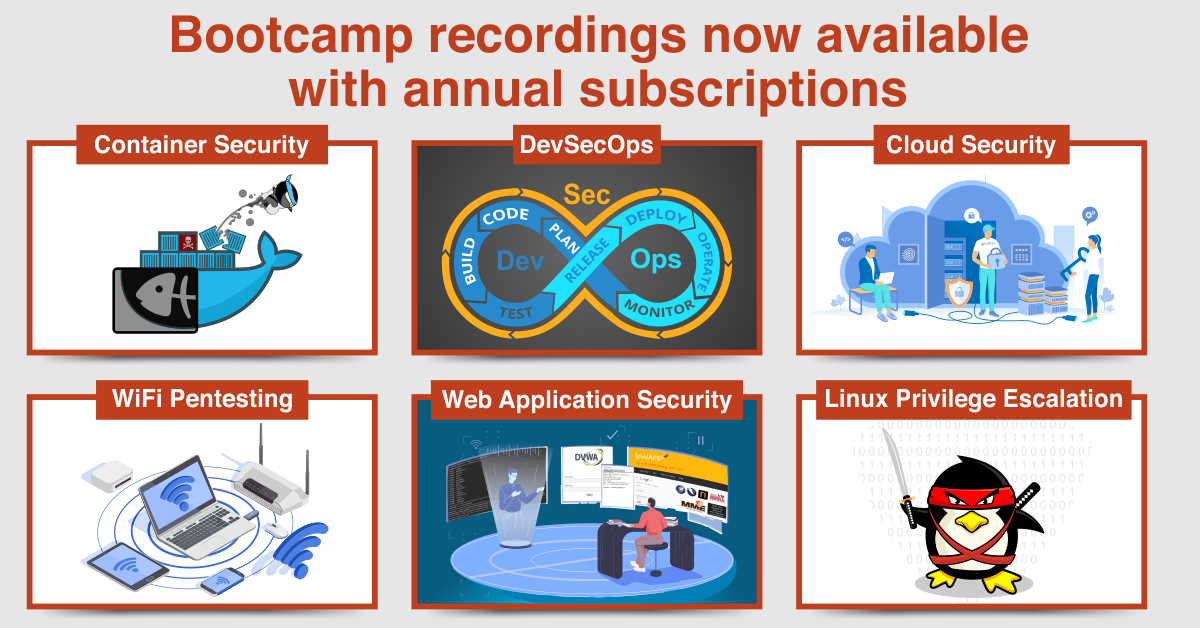 Pentester Academy & INE no longer offer Active Directory/Azure Bootcamps and its Certifications (CRTP/CRTE/PACES/LinuxAD/CARTP/CAWASP).

For the latest in pentesting, check out our annual subscription which includes the below on-demand bootcamps!

\Learnworlds\Codeneurons\Pages\ZoneRenderers\CourseCards
\Learnworlds\Codeneurons\Pages\ZoneRenderers\CourseCards
Save More With Bundles!
Enjoy greater savings when you bundle annual access with the new AWS and WiFi Pentesting bootcamps! The following bundles are available:
1 Year of Pentester Academy access + WiFi Pentesting Bootcamp: $349
1 Year of Pentester Academy access + AWS Cloud Security Bootcamp: $400
1 Year of Pentester Academy access + WiFi Pentesting + AWS Cloud Security Bootcamp: $600
*Pentester Academy access included in bundles do not auto renew and will expire one year from purchase date.
\Learnworlds\Codeneurons\Pages\ZoneRenderers\BundleCards
Hear what our students have to say about their experience!
Why do our students love our bootcamps?
Kenneth Nevers, USA
Penetration tester and business owner
I am a network pentester from Roanoke, Virginia, and I am a graduate of the CRTP bootcamp. It was awesome! I learned all sorts of Red Teaming techniques, tactics and procedures that I have already applied and can't wait to apply in future engagements. The bootcamp was the best training for the dollar that I have received, and I anxiously look forward to attending additional offerings and highly recommend the course.
Shoaib Sheikh, UAE
Senior cybersecurity consultant
I work as a senior cybersecurity consultant, and I have around eight years of experience in cybersecurity. I enrolled in this bootcamp for Active Directory beginners, and the things I like most about this course are the syllabus, the lab practicals, the live interaction on the Discord channel, and the support from the trainer – every time we got stuck, he responded within an hour.
Shaya Rand, Israel
Junior penetration tester
I took part in the CRTP bootcamp. I had an amazing experience, and I feel that this was a huge step up for me in my career. Moving forward, especially as a beginner in the penetration testing world, I am filled with confidence, knowledge and even experience, now that I've done the CRTP bootcamp. Looking forward to CRTE and more.
Elmehdi Bendriss, Morocco
CEO and cybersecurity consultant
In my work, I help people get certified, organizations get certified, mainly for ISO 27001 standard family. As part of it, I offer pentesting of information systems and, generally, I engage third parties to do it. Now, I feel more confident to do some parts by myself and offer the service of Red Teaming, maybe after I obtain my expert certification (CRTE), as a part of my business offer for companies.
Teaching Methodology
We believe in teaching Defense through Offense - once you understand how attackers break into networks and systems, then as a defender you know what to check for when pentesting and what defenses you should build. Also, as pentesting is no longer about firing automated tools and sending reports, but rather being able to create new attack scenarios, automate tasks, customize attack tools and exploits, and to be able to hack together custom scripts on the go, our bootcamps focus on task automation. The hand-on labs mimic real-life scenarios to give you the knowledge and experience to help protect the data and systems of your enterprise.

Stay up to date on future bootcamps!
Created with