On-Demand: Web Application Security: Beginner Edition Bootcamp

A beginner-friendly introduction to the Open Web Application Security Project® (OWASP) Top 10 vulnerabilities, where you will build a solid foundation in pentesting modern web applications with different attack tools.
Recordings of this bootcamp are now available as part of our annual subscription. Subscribe to enjoy:
Access to

all

on-demand bootcamps

and relevant labs, including this one

2000+ hands-on labs covering another 130+ subtopics
Web application security is as old as the web. However, today, almost all WebApps have transitioned into the cloud. This bootcamp lets you practice attacks on real-world web applications and teaches the subtle differences between pentesting traditional and cloud-based applications.

Throughout the 4 sessions, you will learn WebApp basics, OWASP Top 10 vulnerabilities and more, all via hands-on practice in our labs. End the bootcamp with skills that are immediately usable in real-life engagements!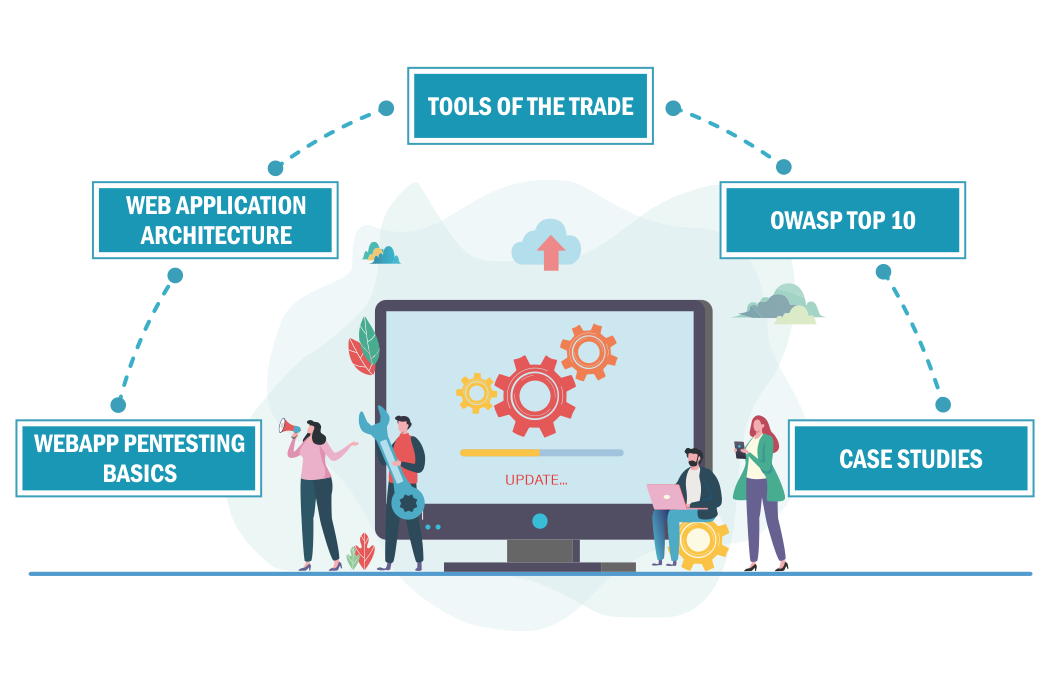 12+ Hours of Live Session Recordings

Over 50 Lab Exercises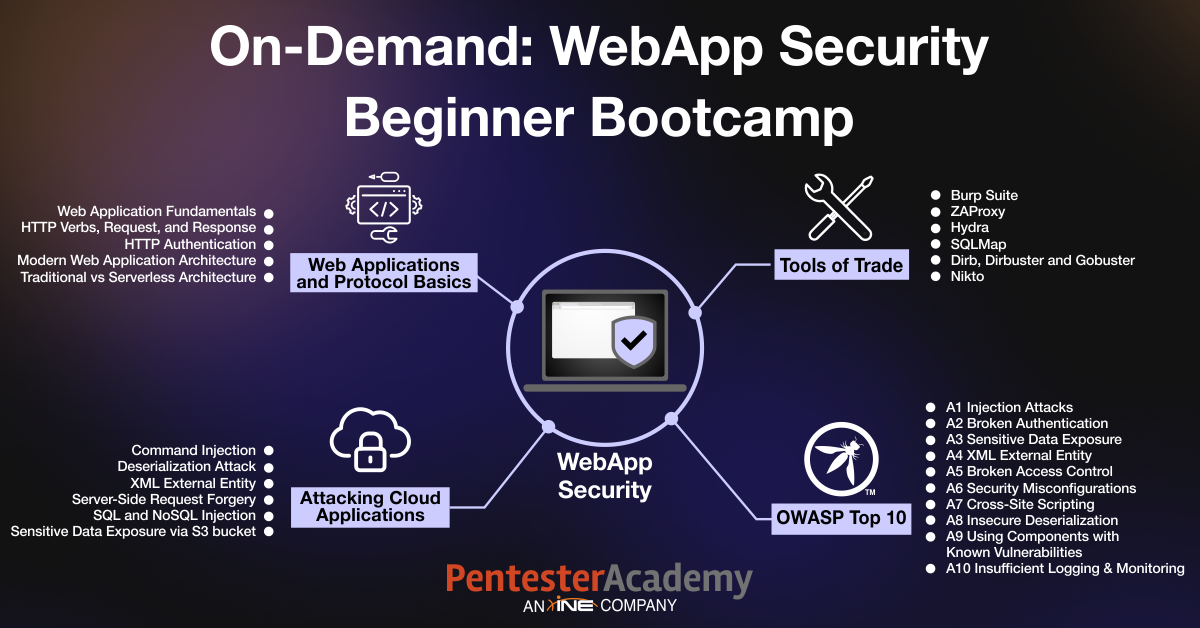 Module I: Modern Web Applications and Protocol Basics
Learn the building blocks of web applications and how everything works behind the scenes including HTTP Methods, web design patterns, client and server-side components. Understand modern deployment architectures such as single-page applications, microservices and serverless architecture.
Client-side Languages and Concepts

Server-side Concepts

Web Servers

Web Communication - HTTP verbs

HTTP request methods

HTTP response codes

HTTP headers and security

HTTP access control

HTTP authentication

HTTP cookies

HTTPS vs HTTP

Data Storage - Database Servers

SQL

NoSQL

Web Application Architecture

Monolithic architecture

Single page applications

Microservices

Serverless architecture
Module II: Reconnaissance Basics
Learn how to perform reconnaissance on a network, identify live hosts, and fingerprint the services running on machines.
Domain Reconnaissance

Whois lookup

DNS reconnaissance

Network Scanning and Live Host Identification

Open Ports and Running Services

Identifying Architectures, Operating Systems and Frameworks

Spidering/Crawling Websites

Performing Directory Enumeration

Discovering Protected Resources
Module III: Tools of the Trade
Learn how to use popular open source tools for reconnaissance, observing, mangling data, and automation of attacks.
Enumerating Common/Framework-specific Directories

DIRB

DirBuster

Burp Suite

OpenDoor

Crawling Web Pages

ZAP

HTTrack

Burp Suite

Identifying Web Application Vulnerabilities with Scanners

Nikto

OpenVAS

Wapiti

Vega

OWASP OWTF

XSS Scanner

XSSer

Attacking Database Servers

sqlmap

jSQL

BBQSQL
Module IV: OWASP Top 10
Familiarize yourself with the OWASP Top 10 which are the most common vulnerabilities attackers are exploiting today. Learn everything with practical hands-on labs using both manual methods and tool based automation where applicable.
A1 Injection Attacks

SQL Injection

NOSQL Injection

OS Command Injection

Code Injection
A2 Broken Authentication

Weak Credentials

Default Credentials

SQL Injection

Cookie Manipulation

Parameter Tampering
A3 Sensitive Data Exposure


Plain Text Transmission (HTTP/FTP/SMTP)


Presence of .git Directory

Presence of Debugging Utilities

Installation Files/README

Backup Directory/Log Directories

Lack of Custom Error Pages
A4 XML External Entity

Classic XXE

Error Based XXE

Blind XXE
A5 Broken Access Control

Path Traversal

Remote File Inclusion

Insecure Direct Object Reference

Client-Side Checks

Missing/Improper Functional Level Access Control

Missing HTTP Method-specific Access Control on Resources

CORS Misconfiguration
A6 Security Misconfigurations

Management Applications with Weak/Default Credentials

Directory Listing Enabled

Disabled Security Features

Poor Error Handling
A7 Cross-Site Scripting

Reflected Cross-Site Scripting

Stored Cross-Site Scripting

DOM Based Cross-Site Scripting
A8 Insecure Deserialization

Remote Code Execution

Denial of Service
A9 Using Components with Known Vulnerabilities

A10 Insufficient Logging & Monitoring
Module V: Real World Attacks
Perform case study on popular real-world attacks, understand the root cause of the vulnerability, and how the attackers exploited it.
Case Study

Laravel Unserialize RCE (CVE-2018-15133)

Rails DoubleTap RCE (CVE-2019-5418, CVE-2019-5420)

Jquery-File-Upload (CVE-2018-9206)

Drupalgeddon2 (CVE-2018-7600)
Prerequisites
1. A basic knowledge of computers and networking
2. Familiarity with the Linux operating system
Accessible via our AttackDefense lab platform
Upon logging in to the AttackDefense lab platform, annual subscribers will be able to access recordings of all our on-demand bootcamps and associated labs.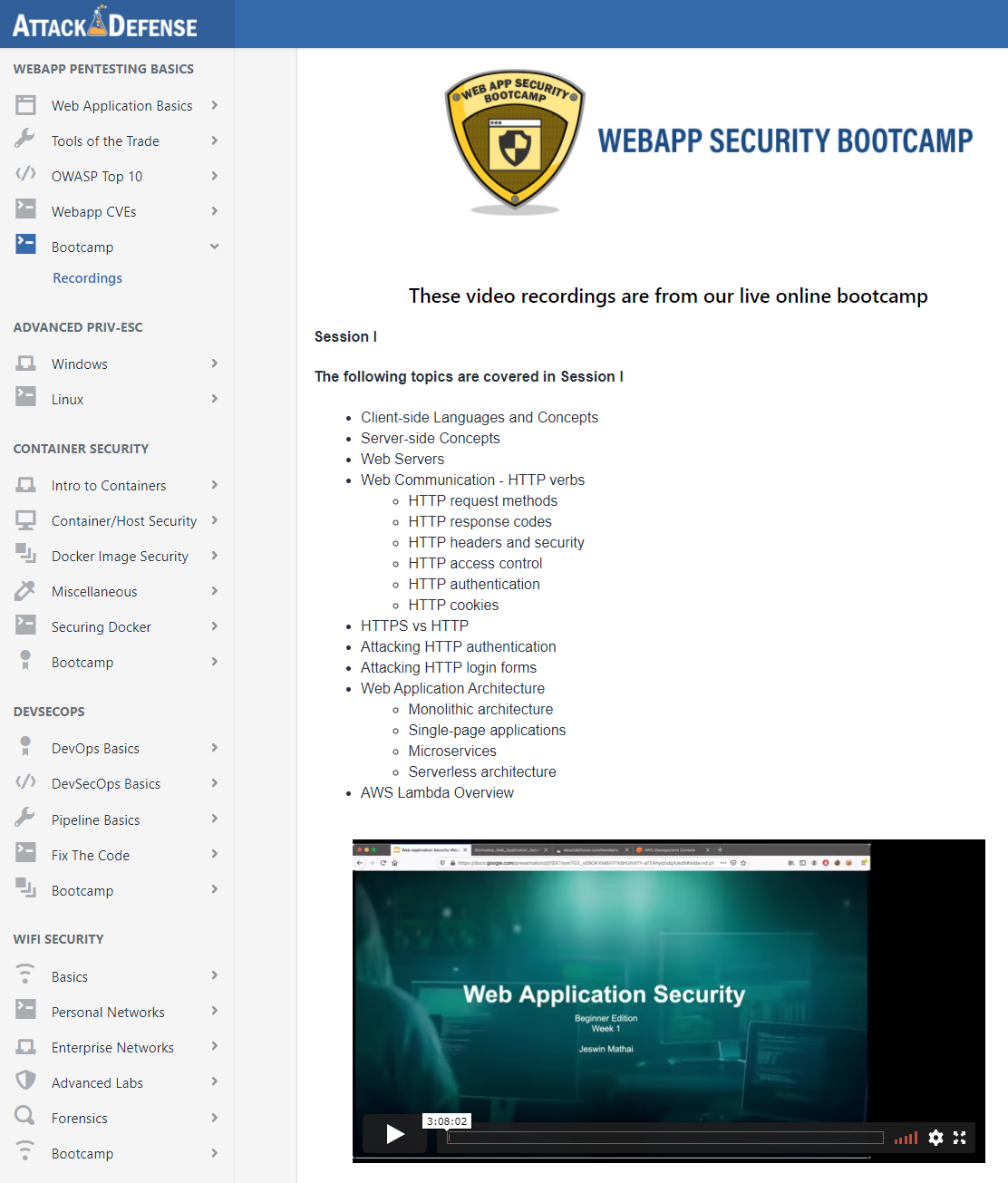 Subscribe to access bootcamp recordings and more!
Bootcamp recordings for select topics, accessible anytime
Follow along with instructors as they walk you through both theory and practice! With bootcamp recordings at your fingertips, master in-demand topics at your own pace, without time zone concerns. Take your time to go through our massive content library – you'll need it!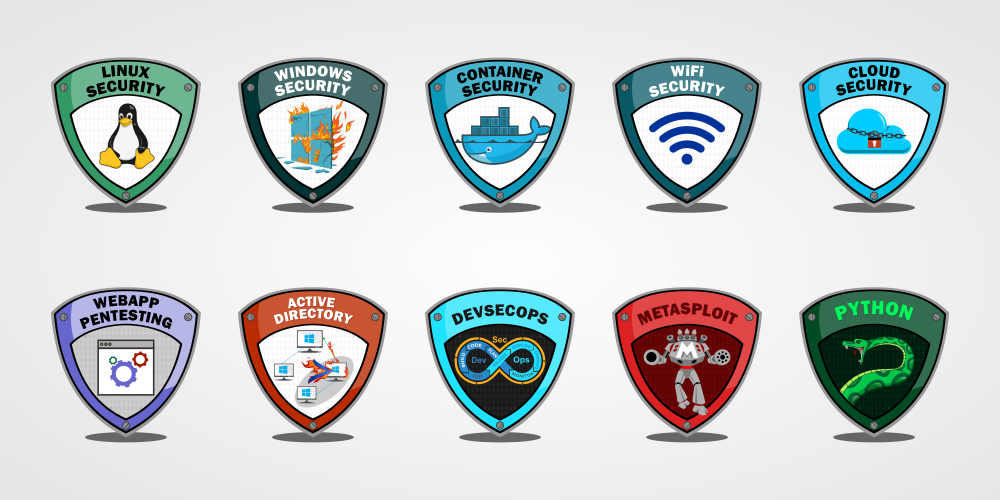 Expand your horizons beyond bootcamps with 2000+ hands-on labs and 1500+ video courses! Our annual subscription grants you access to a massive content library – perfect for self-paced learning on an ongoing basis. View our entire list of topics
here
.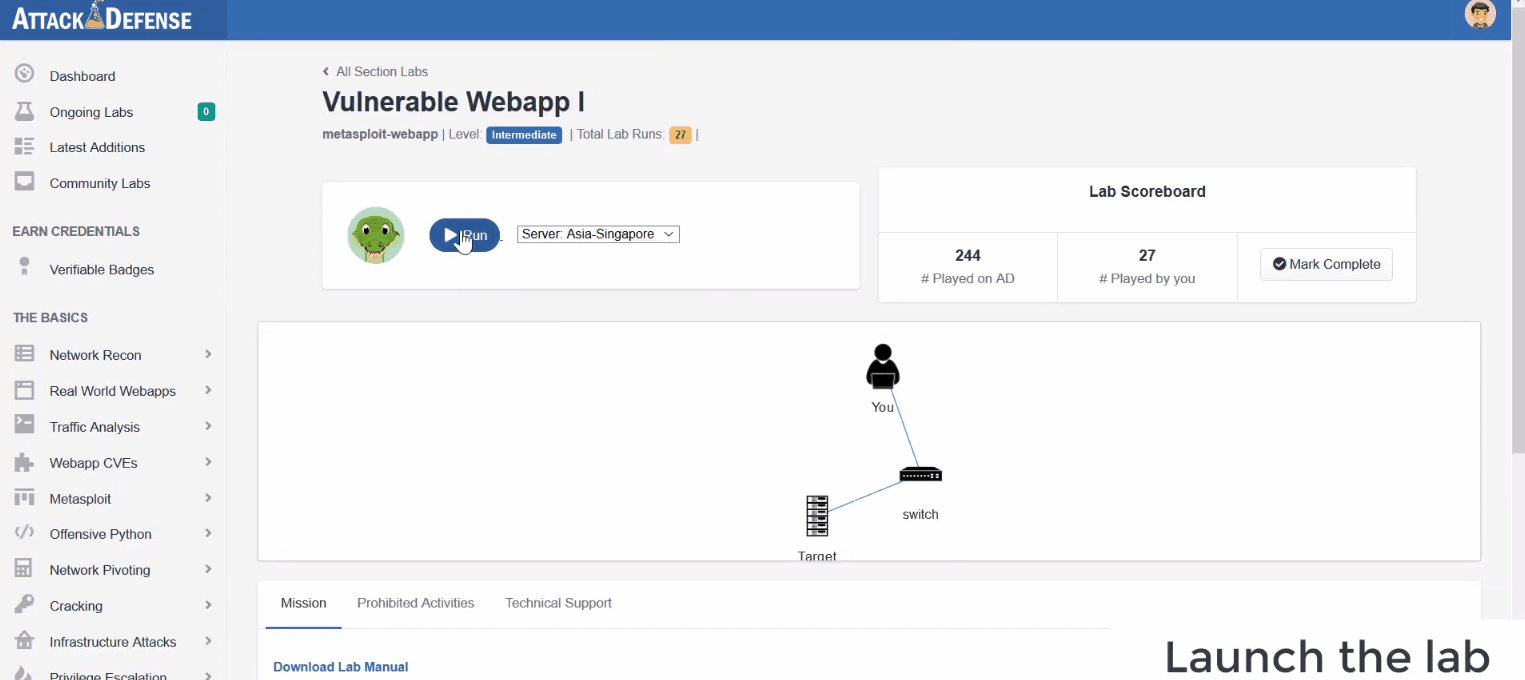 Browser-based platform; no VPN needed
Learning with us is simple. Our labs are completely browser-based and include access to a Terminal/GUI-based Kali, Ubuntu or other operating systems, with the necessary tools and scripts pre-installed. All you need is an internet connection to get started!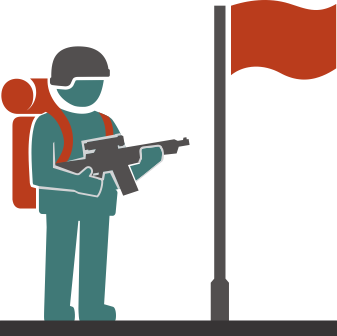 Our lab scenarios are based on real-world circumstances as much as possible. With realistic scenarios, students are prepared for actual pentesting and Red Team engagements.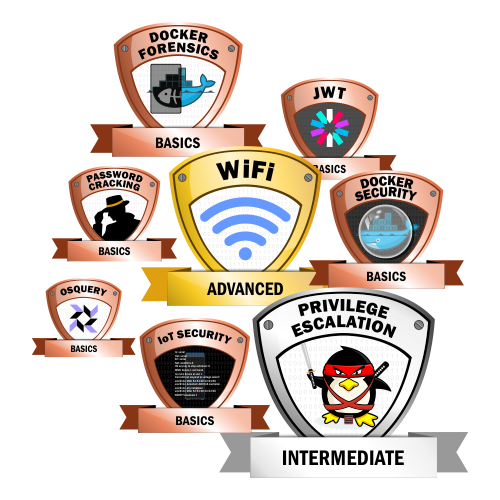 Complete challenges to earn badges. Verified by Accredible, badges declare your skill in specific topics and are easily shared on social media to help your profile stand out!
Meet the instructor


Jeswin Mathai
He has published his work at DEFCON China, RootCon, Blackhat Arsenal, and Demo labs (DEFCON). He has also been a co-trainer in classroom trainings conducted at HITB, RootCon, OWASP NZ Day. He has a Bachelor degree from IIIT Bhubaneswar. He was the team lead at InfoSec Society IIIT Bhubaneswar in association with CDAC and ISEA, which performed security auditing of government portals, conducted awareness workshops for government institutions. His area of interest includes Malware Analysis and Reverse Engineering, Cryptography, WiFi security, and Web Application Security.
Get informed about future bootcamps!
Created with