DevSecOps: Beginner Edition
Get a hands-on introduction to DevSecOps basics with a focus on implementing Devops and DevSecOps pipelines in on-premise, hybrid and on-public cloud models.
Starts:
07 July 2021
Duration:
4 weeks
Recordings of live sessions included!
This is a 4-week beginner bootcamp that will teach you the basics of DevSecOps. You will learn how to use different tools and techniques to plan/create DevOps pipeline, integrate security to it and automate security testing, auditing, compliance and infrastructure security. You will have the opportunity to reinforce the essential concepts taught by building pipelines hands-on in our purpose-built labs.


Completing the bootcamp and passing the certification exam will arm you with the skills and knowledge required to enter the security industry as a Junior DevSecOps Professional.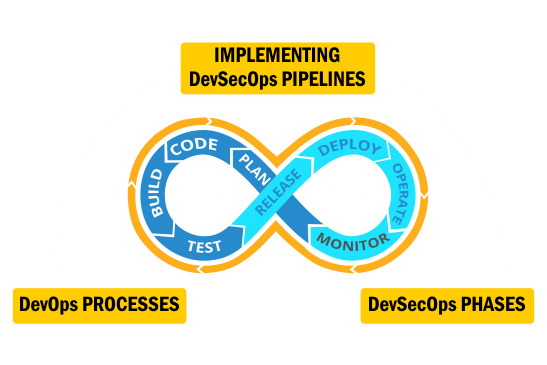 4 Live Sessions

2.5 hrs per session

Over 50 Lab Exercises

1 PADSOP Attempt

Recordings of Live Sessions
Build Your Cybersecurity Credentials
Become a Pentester Academy DevSecOps Professional (PADSOP)
A PADSOP certification holder is proficient in implementing both DevOps and DevSecOps pipelines, and automating security testing, auditing, compliance and infrastructure security.
Bootcamp Completion Certificate
Attendees will also get a course completion certificate after attending all 4 live sessions.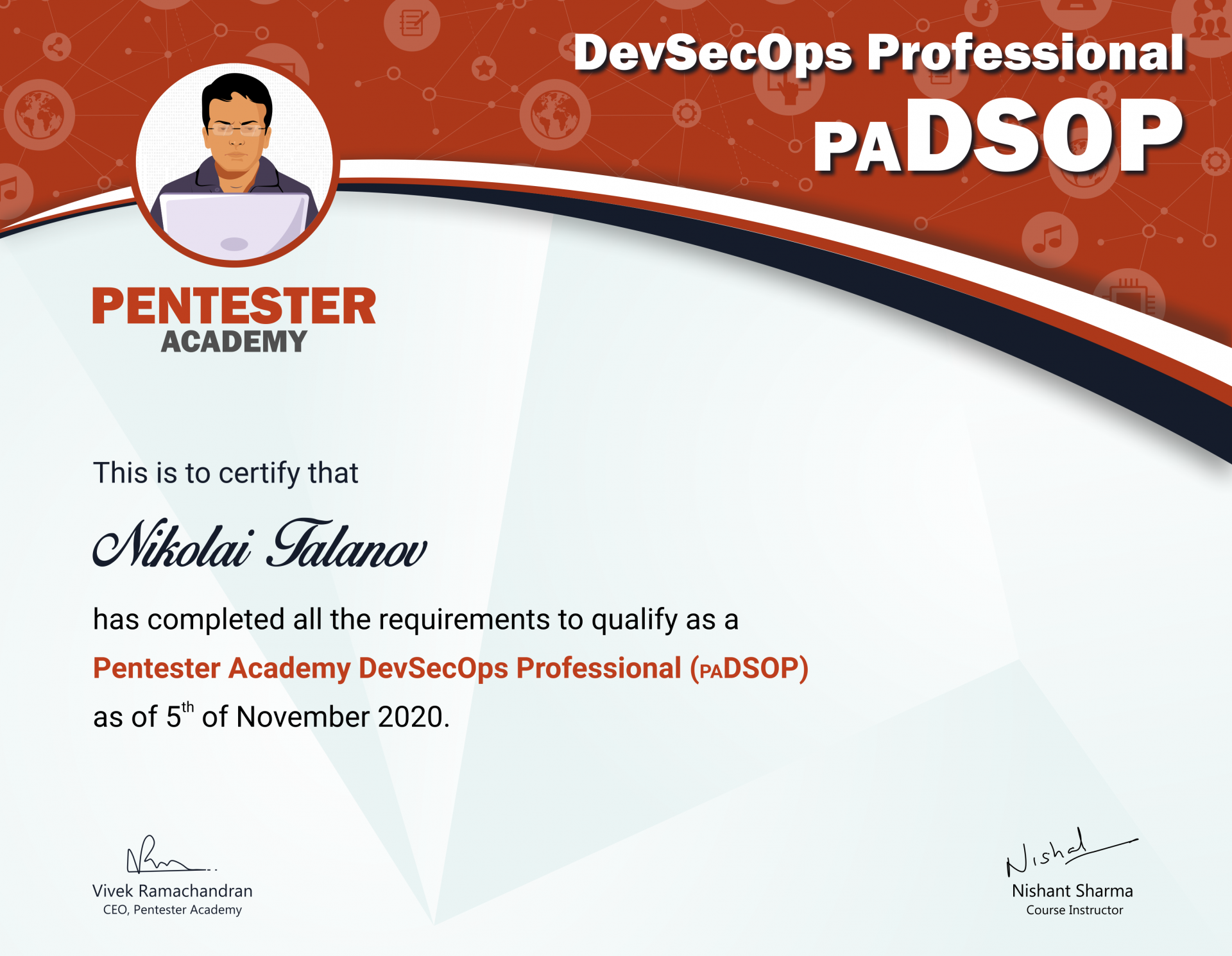 Live Session Schedule
Weekly 2 hr 30 min sessions start at 10:00am ET and end at 12:30pm ET.
07 July 2021
14 July 2021
21 July 2021

28 July 2021
DevSecOps: Adding Security to DevOps Part I
DevSecOps: Adding Security to DevOps Part II
DevSecOps Pipelines on GitLab
Prerequisites
1. Basic knowledge of computers and networking
2. Familiarity with the Linux Operating System
3. Familiarity with DevOps components is useful, but not essential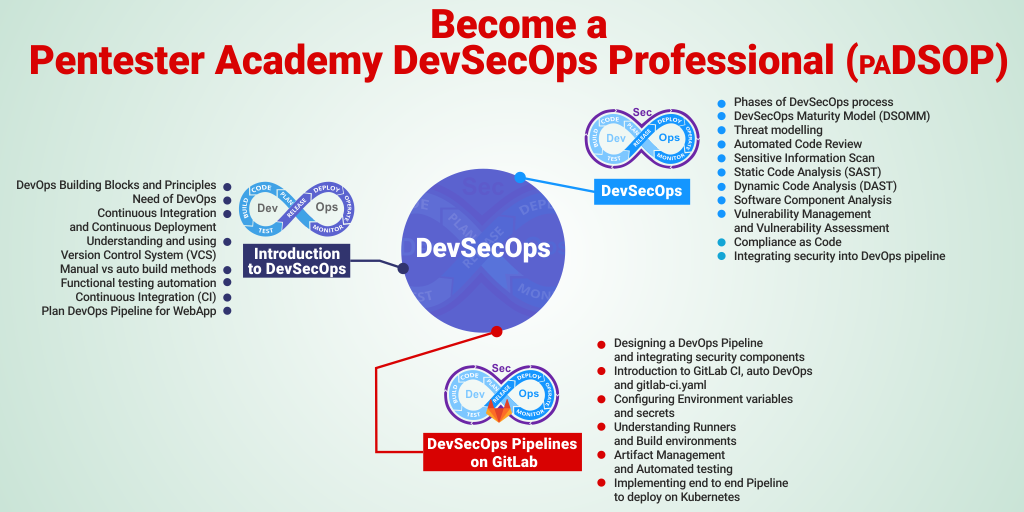 Module I: Introduction to DevOps


Learn the basics of DevOps and SDLC (Software Development Life Cycle) processes, components required to implement a DevOps pipeline. Plan a pipeline for a web application and implement it for an on-premise setup involving virtual machines.
What is SDLC?

What is DevOps?

DevOps Building Blocks and Principles

Need of DevOps

What is Continuous Integration and Continuous Deployment?

Continuous Integration to Continuous Deployment to Continuous Delivery

Continuous Delivery vs Continuous Deployment

General workflow of CI/CD pipeline

Phases of DevOps Pipeline

Code Environment (IDE)

Version Control System (VCS)

Basics of Git VCS

Self Hosted VCS i.e. Gitlab, SCM

Publicly available VCS e.g. GitLab, GitHub, BitBucket

Building the Project

Manual Build vs Automated Build

Build Systems e.g. Maven, make, Dockerfile, Packer

Testing

Manual Testing vs Automated Testing

Automated Unit Testing e.g. JUnit, Pytest

Automated Functional Testing e.g. Selenium

Deployment

Manually creating the setup

Infrastructure as Code e.g. Ansible, Chef

Continuous Integration (CI)

Benefits of CI

CI solutions e.g. Jenkins, GitLab CI

Lab: Continuous Integration lab for Django Webapp

Monitoring

Importance of Monitoring

Monitoring with NagiOS

Concept and explanation what to monitor

Maintenance

Issue Tracking

Documentation

Case studies on DevOps Pipelines

Plan a DevOps Pipeline for a WebApp

Implement DevOps Pipeline for an on-premise model
Module II: DevSecOps: Adding Security to DevOps
This module is covered in Weeks 2 and 3 of the bootcamp.

Understand the secure SDLC and concept of integrating security in DevOps process, learn to perform threat modeling, identify the security components for the DevOps pipeline, install and configure the security tools to convert DevOps pipeline into DevSecOps pipeline.
What is Secure SDLC?

Secure SDLC phases

DevSecOps Maturity Model (DSOMM)

Adding Security to DevOps

Phases of DevSecOps Pipeline

Threat modelling

What is Threat Modelling?

STRIDE vs DREAD approaches

Using ThreatSpec and BDD Security

Automated Code Review

What is Automated Code Review?

Using FindSecBugs, PMD, DevSkim tools

Sensitive Information Scan

What is Sensitive Information Scan?

Using Talisman, GitSecret, Trufflehog

Static Code Analysis (SAST)

What is SAST?

Using SonarQube, Graudit and Flawfinder

Dynamic Code Analysis (DAST)

What is DAST?

Using OWASP Zap, Arachini

Software Component Analysis

What is Software Component Analysis?

Using OWASP dependency check, Retire.js and Safety

Vulnerability Management and Vulnerability Assessment

What is Vulnerability Management and Vulnerability Assessment?

Using ArcherySec, DefectDojo, OpenVAS

Compliance as Code

What is Compliance as Code?

Using Inspec and Serverspec

Secret Management

Need for Secret Management

Using Hashicorp Vault, Torus

Case studies on DevSecOps Pipelines

Identify security components for the WebApp DevOps pipeline created in last session

Integrate the security components to form a DevSecOps pipeline
Module III: DevSecOps Pipelines on GitLab
Learn about GitLab CI fundamentals, configurations to create a DevSecOps pipeline on it. The GitLab can be hosted on-premise, in hosted service Gitlab.com and can also be installed on cloud infrastructure, making it a good choice for DevSecOps process.
Designing a DevOps Pipeline for a Django Web Application

Identifying the DevSecOps components to integrate

Introduction to GitLab CI

Writing gitlab-ci.yaml

Configuring Environment variables

Using secrets securely

Configuring Runners

Implementing Pipeline using GitLab CI

Integrating security tools
Meet the instructor


Nishant Sharma
Nishant Sharma leads R&D at Pentester Academy and Attack Defense. He has 8+ years of experience in the information security field including 6+ years in WiFi security research and development. He has presented research and conducted workshops at Blackhat USA/Asia, DEF CON China, HITB, RootCon, Packet Hacking Village, Wireless Village, IoT village and Demo labs (DEFCON USA).

Nishant's Twitter handle is also @wifisecguy, which should tell you all you need to know about his research interests.
Can't attend this bootcamp? Get informed about future bootcamps!