What's included?
Become a Certified Red Team Professional [CRTP]
Learn to identify and analyze threats and practice attacks against a modern Active Directory environment. Included is one attempt at the CRTP exam.
Bootcamp Completion Certificate
Get a course completion certificate after attending all 4 live sessions.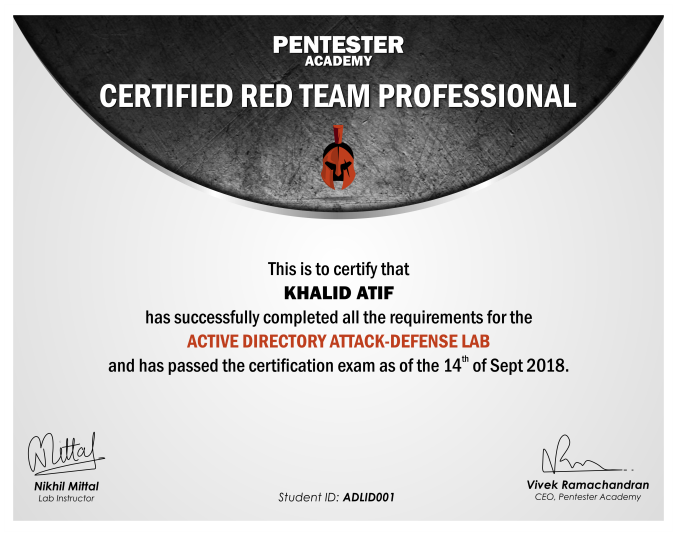 4 live sessions

2.5 hrs per session

4 weeks access

40 flags to be collected

22 lab exercises

1 CRTP attempt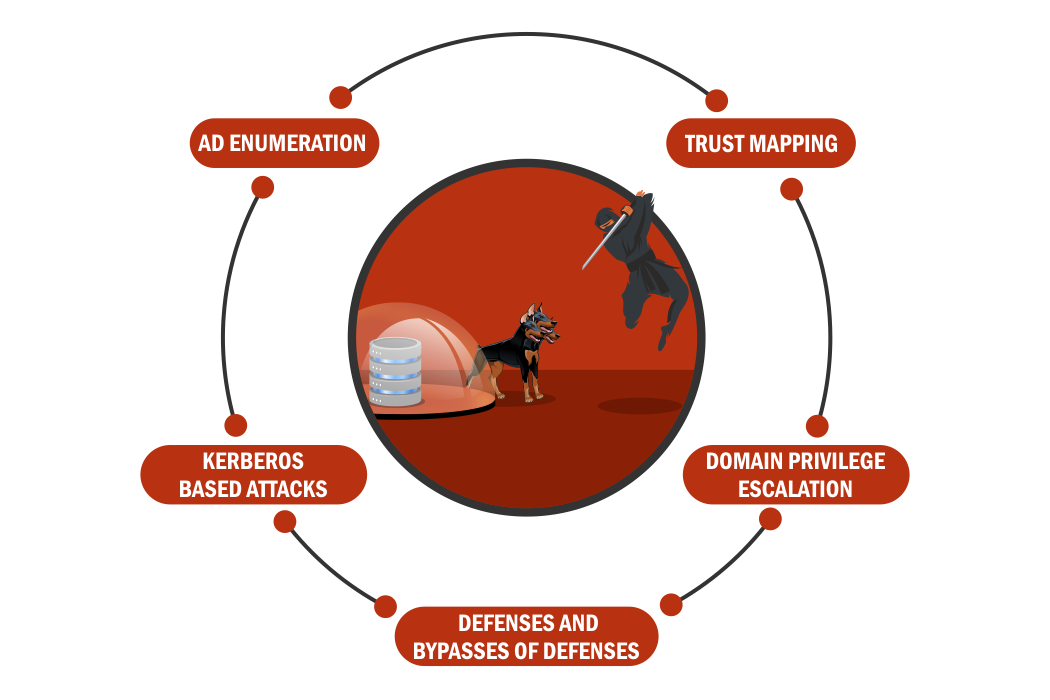 What will you learn?
This is a 4-week beginner-friendly bootcamp, designed to teach security professionals how to identify and analyze threats in a modern Active Directory environment. The bootcamp will cover topics like AD enumeration, trust mapping, domain privilege escalation, Kerberos based attacks, SQL server trusts, defenses and bypasses of defenses.

The bootcamp will teach you how to attack and defend Enterprise Active Directory environments and will give you an opportunity to become a Certified Red Team Professional.
Live Session Schedule
Weekly 2 hr 30 min sessions start at 12:00pm ET and end at 2:30pm ET.
29 Nov 2020
5 Dec 2020
12 Dec 2020
19 Dec 2020
Introduction to Active Directory, Enumeration and Local Privilege Escalation
Lateral Movement, Domain Privilege Escalation and Persistence
Domain Persistence, Dominance and Escalation to Enterprise Admins
Defenses, Monitoring and Bypassing Defenses
Prerequisites
1. A basic understanding of Active Directory
2. The ability to use command line tools on Windows
Can't attend this bootcamp? Get informed about future bootcamps!
Meet the instructor


Nikhil Mittal
Nikhil Mittal is a hacker, infosec researcher, speaker and enthusiast. His areas of interest includes red teaming, Active Directory security, attack research, defense strategies and post exploitation research. He has 12+ years of experience in red teaming.
Nikhil has worked extensively on Active Directory attacks, defense and bypassing detection mechanisms and offensive PowerShell for red teaming. He is the creator of multiple tools like
Nishang
, a post exploitation framework in PowerShell,
Deploy-Deception
a framework for deploying Active Directory deception and the
RACE toolkit
for attacking Windows ACLs.

Nikhil has held trainings and bootcamps for various corporate clients (in US, Europe and SE Asia), and at the world's top information security conferences.

He has spoken/trained at conferences like DEF CON, BlackHat, CanSecWest, BruCON and more.